M2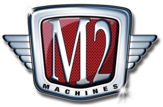 M2 Machines are manufactured in Azusa, California. They specialize in miniature American muscle. These die cast cars come standard with movable part and display cases. Many different series are made for the die hard collector to the causal fan.
The inventory at Sportsamerica Sports Cards is stocked with the most recent M2 Machines die cast cars available. From classics like the 1955 Chevy Bel air to the 1970 Chevy's.

We buy direct to provide the best pricing on die cast.